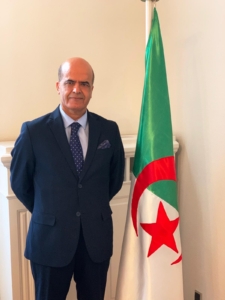 Dear compatriots, dear visitors 
It is with great pleasure that I announce my arrival in Copenhagen where I took over the management of the Embassy on November 22, 2019.
This assumption of office gives me the pleasant opportunity to convey my fraternal greetings to you and to tell you how proud I feel at the prospect of interacting with the eminent national community established in Denmark. As such, I agree that the Embassy services will spare no effort to listen to you, offer you the best possible consular services as well as the best reception.
Allow me to share with you the pride of belonging to a country which has made many advances in all sectors, which has been able to safeguard its civilization fundamentals, preserve its internal stability and be a diplomatic player, whose commitment to international peace and security is recognized and praised around the world.
While measuring the weight of the responsibility incumbent on me, I reaffirm my will and my determination to promote the relations of friendship and cooperation between Algeria and Denmark and to spare no effort in favour of strengthening the ties of political and economic cooperation between Algeria and Denmark in the interest of the two peoples and the two countries.
Whether your interest is professional or personal, whether you want to know about investment opportunities in Algeria or simply visit the country, we hope that this site will be a useful tool for you.
We hope that in the coming days you will discover a renovated site offering a more attractive welcome that meets your expectations. Work is underway to achieve this objective.
fraternally
Rachid MEDDAH, Ambassador of Algeria.